---
Out Is In Capri event marquees.
If you are really out to impress and need to create a great space for your wedding, corporate event or just a small family BBQ an Out Is In Capri marquee is a must. Decorated or just as it comes, the Capri marquee will create a majestic focal point for your event.
Modular marquee design
The marquee's modular design and flexibility mean they can be connected together allowing you to design your own space and environment. The large high arched sides of the Capri can be left open creating a shaded canopy on a hot summer's day or with little effort closed up during the evening turning the marquees interior into an intimate space for your guests.

Capri marquee advantages
There are many advantages of Capri marquees over framed marquees and other styles. 

Cost of Capri marquees
The savings can be substantial as our marquees do not need lining or indeed much decoration as the contemporary design speaks for itself.
Sizes in feet
20 x 20 Capri
20 x 30 Capri
28 x 28 Capri
28 x 38 Capri

Linking the marquees to create a bigger space
The marquees can be linked which enables them to fit into nearly any venue; large or small. All sizes from the 20ft x 20ft to the large 38ft x 28ft marquees come with a set of sides that complete the structure making them completely waterproof. There are two different styles of sides: clear windows to make the most of the views or just to give you that alfresco feel and plain white sides' ideal to blank off areas or to create a back drop for a band or stage.

Marquee Set up
The Capri marquee doesn't have the cumbersome metal framework found in other tents and marquees which means easier access to the venue and less time to assemble. Fewer stakes, poles and ropes results in less obstructions for your guests and smoother movement in and around the marquee.
Appearance
The Capri looks remarkably elegant in any situation with its sweeping curves and crisp lines.
Looking for a marquee for your event?
Out Is In hire and set up marquees in London, Sussex, Kent, Hampshire and Surrey.
For more information please call us on 01403 470099 or email us
---
Call us: 01403 470099
Email info@outisin.co.uk
Lakeside Capri marquee with transparent sides. 3 x 20ftx20ft marquees for a corporate event.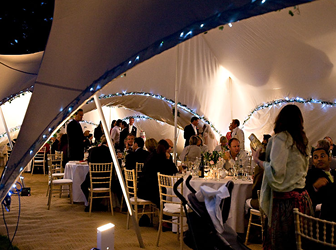 Party in a Capri marquee:. sides open with pealights and ivy decoration.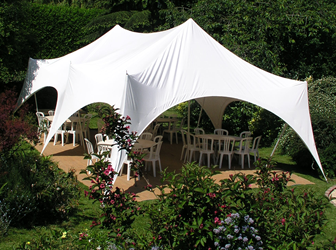 A Small party in a garden in Surrey. Sides open.